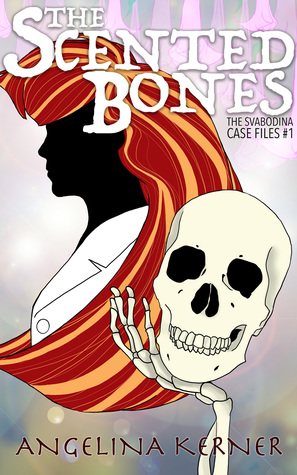 Dear readers, tonight with me is a young man working as a detective by day and and as a guide for departed souls by night. Between mafioso godmothers and the cement shoes on non-human skeletons sleeping with the fishes, he's here to tell us about his uncanny adventures.
Rather unorthodoxly, the interview is recorded from the point of view of the interviewee. Who says mind-reading isn't fun?
---
Please introduce yourself –
I raise my hand for a pause and pull out a pack of cigarettes. After going through my motions, I light the cigarette and take my first smoke of the morning.
After exhaling, I say, "Can you repeat that?"
Please introduce yourself, and the book you are from.
"My name is Mikhail, last name private. My first appearance is in the Scented Bones by Angelina Kerner."
Tell us a little about where you grew up. What was it like there?
"Can't really. There's no real place that I can call home. My parents moved a lot when I was a kid. It's not in our nature to stay in one place. I remember living in the in-between, in the mountains, by the ocean, in a big city. Thanks to my parents travels, I can adapt to anything and I mean anything," I say and wink.
What do you mean by not in your nature?
"Oh," I said. "You don't know." I laugh before continuing to smoke. "I'm a psychopomp. My day job is being a detective and my underground life is helping paranormals reach an understanding at an end of an argument or accept death. I help spirits enter the otherworld and have similar powers to a witch's. Lately, I'm stronger than my little sprite. She's neglected her magickal part of life. I need to spank her for that. Her neglect makes my third job hell." I laugh again.
Your third job?
I sit back and dab my cigarette on the plate on the table. "I'm only going to answer that because you're not in the book and therefore can't screw me or my charge. My third job is my first job. I'm someone called an Associate. I'm not part of an Italian mob, but I have a working relationship that benefits both parties." Continue reading "Mikhail (of The Scented Bones, by Angelina Kerner)" →